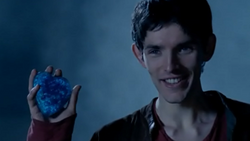 The definition of a warlock was never confirmed within the series. It is generally believed to be a gender-specific term for a male sorcerer, just as witch is a gender-specific term for a female sorcerer.
However, it should be noted that Merlin was the only character actually referred to as a warlock within the series. Other male magic-users were referred to as sorcerers and Druids, but never as warlocks.
It has been theorized that a warlock is born with magic while a sorcerer studies it, which could explain why Merlin is the only character addressed as one. He is the only sorcerer in the series known to have been able to use magic instinctively from birth, and it has been implied that he's an anomaly in this regard (The Dragon's Call). This theory has never been proven or disproven.
Known Warlocks
Trivia
In some texts, the word "warlock" translates to "truth-twister". This is widely unknown due to modern usage of the word in works like Harry Potter, and clearly does not apply to Merlin, either.
See also
Community content is available under
CC-BY-SA
unless otherwise noted.