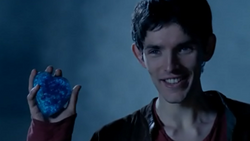 The definition of a Warlock was never confirmed within the series, but it is generally believed to be a gender-specific term for a male sorcerer.
However, it should be noted that Merlin is the only character referred to as a warlock within the series. Other male magicians have been referred to as sorcerers, Druids, and Priests, but never as warlocks.
Known Warlocks
Trivia
It has been theorised that a warlock is born with magic while a sorcerer studies it, which would explain why Merlin is the only character addressed as one. Merlin is the only sorcerer in the series known to have been able to use magic instinctively from birth, and it has been stated that he is an anomaly in this regard (The Dragon's Call).
See Also