Everything You Need To Know About Longlivemerlin
Hello

<insert name here>

! Thank you for visiting my user page! Hope you enjoy yourself!
--Longlivemerlin
A little bit about me.
Hello everyone! My name is Longlivemerlin, but my friends call me Aria. I am a fairly recent user on this wiki. And since I just became an admin I am still looking around and discovering new ways to edit things on this wiki.
What I look like?
I always like creating an image along with a name so I will tell you about how I look. I have brown hair with a couple blond streaks. I am pretty tall. Around 1.6 meters or 5 feet 5 inches. And lastly I have bright green eyes.
What do I like to edit on this wiki?
Well, I like editing infoboxes, adding pictures, editing Transcripts, and making sure no one wrote the wrong information in any article.
What is my favorite color?
Turquoise. No brainer.
And last but not least RANDOM FACTS!
I am suuuuuuuuuuuper competitive in random board games. This is completely random, but that's why I called it random facts.
I love eating junk food and because I have a high metabolism I can get away with eating just about anything
My favorite foods are: pasta, lasagna, ice cream, and whatever other junk food I can find in my fridge or cupboard.
Even though I love junk food, I am still skinny. (Which I thank God for every day)
Contact Info.
If anyone wants to contact me for help or just to say hi feel free to leave a message on my wall. Or email me at: ariajames13@gmail.com
Inspirations
My Favorite Characters
Fandoms!
Merlin and Morgana
They had such a nice relationship before she turned evil!
Now they're just.........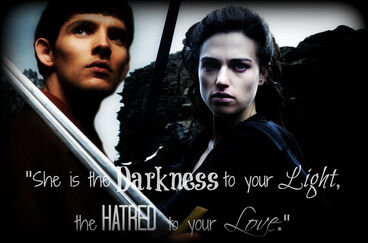 Yeah........
Merlin and Freya
Anyway, I think Merlin deserved love so I definitely wish the Freya and Merlin relationship stayed.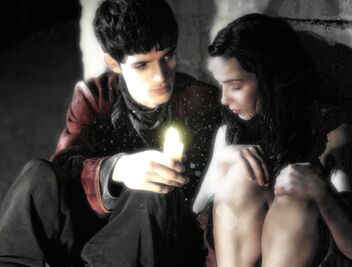 Then again she did come back!
Oh yeah, and did that! And this:
Thanks Freya!
Merlin and Arthur
I like they're funny and sweet relationship. I just wish Arthur would show that he cares for Merlin a little bit more!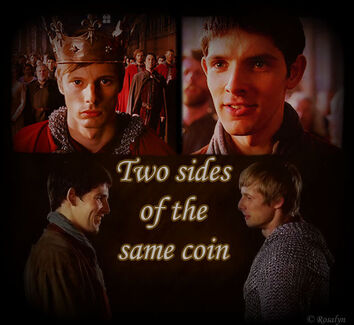 Merlin and Gaius
I love they're father and son relationship. So awesome!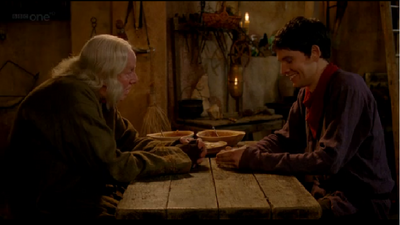 Mithian and Merlin
I wish they went a little more into this relationship!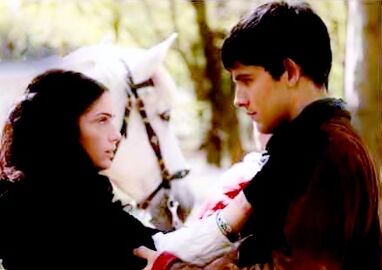 Merlin and Sefa
They could have been a couple! Or at least friends! Come on writers! Give Merlin a friend!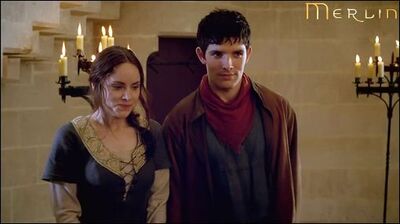 Favorite Quotes
"

You say you're all dark and twisty. It's not a flaw, it's a strength. It makes you who you are. I'm not going to get down on one knee. I'm not going to ask a question. I love you, Meredith Grey. And I want to spend the rest of my life with you.

"

—

Derek 'proposes' to Meredith

[[src]]
"

Just, just, just hold me. Please. There's something I want to say. Merlin, everything you've done I know now. For me, for Camelot, for the kingdom you helped me build.... I want to say something I've never said to you before, thank you.

"

—

Dying Arthur to Merlin

[src]
"

The joy. It comes around rarely, so rarely we forget it can happen, but that... That's why we do this. The joy.

"

—

Dr. Bailey to Callie

[[src]]
"

Dr. Bailey! I need to tell you something. It'll be quick. I think you're going to be mad at first, but I'm about to do something important and I'm very sure about this decision. And I think eventually you're going to be very proud. But before that you're probably going to be like <imitates high voice> 'What did you do?' I don't mean to imitate you-' 'You call that quick?' 'I joined the army to be a trauma surgeon. I report for duty tomorrow.' 'YOU DID WHAT?!'

"

—

George to Dr. Bailey

[[src]]
Vote in the Arena
Make sure to vote in the Merlin Arena!
THE MERLIN ARENA IS NO LONGER RUNNING NEW FIGHTS. VISIT THE PAGE TO VIEW ARCHIVES.
My Reaction to No Series 6
My Favorite TV Shows
Community content is available under
CC-BY-SA
unless otherwise noted.