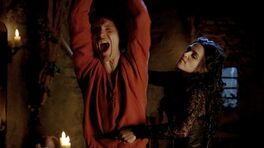 Torture is a method which is used to hurt other individuals to either get information, traumatize, punish or manipulate them. Torture can come in forms ranging between giving excruciating mental/emotional pain to the victim and it can involve magic or physical abuse.
Forms of TortureEdit
Physical TortureEdit
Examples:
Mental/Emotional TortureEdit
Examples:
Miscellaneous TortureEdit
Example:
Although she was not actually getting information from Merlin when capturing him, Morgana tortured Merlin by inserting a Fomorroh inside his neck so that she could control him to get him to kill Arthur. Inserting the Fomorroh, which borrows into the back of the based of the neck, causes the victim extreme pain. The Fomorroh could also be used to emotionally torture an individual by forcing him/her to do something against his/her will, as Morgana attempted to do to Merlin by forcing him to try to kill Arthur. Had his attempts succeeded, the guilt and remorse Merlin would have felt would have been his undoing. (A Servant of Two Masters)
Community content is available under
CC-BY-SA
unless otherwise noted.