"

When you're competing in the tournament, you pin your opponent under the shield, a snake strikes. Your opponent will be paralysed.

"

— Devlin[[Valiant (episode)
|[src]]]
The Serpent Shield was a shield painted with three snakes that were magically enchanted to come to life on command and strike an opponent of its bearer.
The Shield was acquired by a knight named Valiant prior to the Tournament in Camelot. As he accuiring the shield from the sorcerer, he invoked the snake for the first time to killing the sorcerer. He later invoked the snakes again during the Tournament: in the duel with Knight Ewan.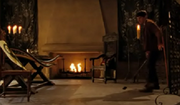 Valiant later invoked the snakes in his private quarters in order to feed them. He was seen by Merlin, who later returned and decapitated one of the snakes. Merlin delivered the snake's head to Gaius, who used it to create an antidote for Ewan. But the defeated knight was later killed by a subsequent snake attack before he could testify before the King.
The Shield was later rendered ordinary when, during the final duel between Valiant and Arthur Pendragon, the snakes were invoked by Merlin and slain by Arthur, who then killed Valiant to win the Tournament (Valiant).
What happened to the shield after that event is unknown. It is most likely that it was destroyed.
Trivia
It is revealed in the novelisation of Valiant that the Serpent Shield is created with snakes from the Forest of Balor.

This episode marks the first appearance of snakes that are used in dark magic and related to foes of the Pendragons and Camelot. In Series 3, one of the allies of Morgause and Morgana against Camelot, Cenred, was represented by a black crest featuring a snake. In Series 4, Morgana used spells to summon a Fomorroh, a snake-like creature with many heads, and influence a Nathair, a small, mostly gentle snake with excruciatingly painful venom. Also in Series 4, it is revealed that at one point in time the High Priestesses of the Old Religion created the Lamia, dark and murderous creatures, by magically combining the blood of a girl with that of a serpent.
Imagery of the Serpent Shield appears as part of the title sequence from series 1 to 3.
Community content is available under
CC-BY-SA
unless otherwise noted.