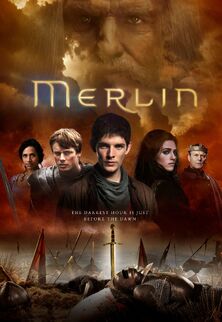 Series 4 of Merlin will air in autumn 2011. It began on 1 October 2011 at 7.50 on BBC One. The series was originally cut to ten episodes from the previous series' 13 due to financial issues. However, Johnny Capps revealed on 18 March 2011 that the show has been increased to its original 13 weekly episodes, opening with a two-parter.[1] Filming started in mid-March 2011 in Cardiff, Wales and Pierrefonds, France This season is said to be darker and more mature than the rest, with the other three having a few violent scenes, and this one having much more. Most characters will show a darker side to their personality. The official tagline for the fourth series is: The Darkest Hour Is Just Before The Dawn.[2] At the SDCC Merlin Panel, it was confirmed that due to the show's increasing popularity, a fifth season has been commissioned by the BBC, and is likely to air the same time next year.
Trailer
Sypnosis
With Uther a shadow of his former self and unable to rule Camelot, it comes up to Merlin and Arthur to protect the kingdom from any possible threat and enemy.
Meanwhile, Morgana continues to take revenge on Camelot and Agravaine, a relative of Arthur, arrives to support him but is he a relative to be trusted?
Other Previews
Cast to Appear
Main Cast
Recurring Cast
Rumoured Cast
New Cast
Charlenne MacKenna as Lamia
Hayley Bishop as Caelia[citation needed]
Sinora Maria as Queen Laila
Zig Byfield as Goron
Terence Maynard as Helios
Gary Lewis as sorcerer
Wayne Foskett as John Howden
Paul Kynman as Sir Cador
Maureen Carr as Dochraid (ghoul who lives in Camelot)
Tom Meredith as Eoghan
Episodes
Please put only officially released synopses in the episode description fields. You can find them here, new ones will be released every Thursday from now on until the series ends.
No.
Title
Director
Writer
Original Air Date
UK Viewers (millions)
1
The Darkest Hour - Part 1
Alice Troughton
Julian Jones
1st October 2011
6.40
Merlin faces his toughest challenge yet when Morgana's blinkered determination threatens not only Arthur's future, but also the very balance of the world. With her magic stronger than ever, the sorceress summons the mighty Cailleach to tear open the veil between the worlds.

Hellish creatures pour forth, killing all who succumb to their touch. With Uther a shadow of his former self, it falls to Arthur and his loyal knights, including Lancelot, to protect the kingdom.

But it will take more than just swords to vanquish their enemy and Merlin is shocked to the core when he discovers the only way to restore the equilibrium requires a sacrifice of unimaginable proportions...

2
The Darkest Hour - Part 2
Alice Troughton
Julian Jones
8th October 2011
5.54
The kingdom is on the brink of collapse and Morgana poised to strike. As Lancelot races back to Camelot with the dying Merlin, Arthur must continue on his mission to vanquish the Dorocha without them. Though the Knights know their journey to the Isle of the Blessed is fraught with danger, none could anticipate the sacrifice Arthur intends to make there.

Friendship and loyalty are tested to the limit, but in the end, it's the power of love that changes all their lives for ever.

3
The Wicked Day
Alice Troughton
Howard Overman
15th October 2011
The mighty citadel is buzzing in anticipation of the Prince's birthday celebrations, as the fantasy drama continues. But Arthur's old adversary, Odin, promises to ensure this is one party Camelot will never forget – for among the assembling guests lurks a deadly assassin set to strike.

As the dust settles, Camelot is left devastated. Just how far is Merlin prepared to go to put things right; would he really risk everything and reveal his secret?

4
Aithusa
Alex Pillai
Julian Jones
22nd October 2011
The mysterious Julius Borden arrives in Camelot with news of a magical secret that threatens to change the landscape of the kingdom for ever, as the fantasy drama continues. He has located the final part of the key to the tomb of Ashkanar – an ancient mausoleum which holds a very special treasure: the last remaining dragon's egg.

Merlin is understandably drawn in by Borden's news and promises to help him. But just who is this enigmatic stranger and, more importantly, what does he really want with the egg?

5
Episode 4.5
Alice Troughton
Jake Michie
29th October 2011
For the first time since his coronation, Arthur finds out what it's really like to be King, as the magical drama continues.

Arthur faces his first true test as King when he incurs the wrath of the formidable Queen Annis.

With the lives of thousands hanging in the balance, Arthur must find the strength to be his own man and become the leader Camelot so desperately needs.

6
Episode 4.6
Alex Pillai [6]
Jake Michie
5th November 2011
 
7
Episode 4.7
Julian Jones
12th November 2011
 
8
Episode 4.8
19th November 2011
 
9
Episode 4.9
26th November 2011
 
10
Episode 4.10
Jeremy Webb
3rd December 2011
 
11
Episode 4.11
Jeremy Webb
10th December 2011
 
12
Episode 4.12
Alice Troughton
17th December 2011
 
13
Episode 4.13
Alice Troughton
24th December 2011
 
References
Community content is available under
CC-BY-SA
unless otherwise noted.