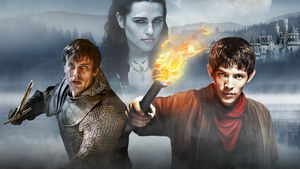 Series 3 of Merlin premiered on September 11, 2010 at 19:25:45
Trailer
Synopsis
Merlin continues in his destiny to protect Arthur and Camelot from any enemies. He must still keep his magic a secret because magic is still banned in Camelot. Dark forces still threaten Camelot so Merlin must defend camelot at any cost.
Arthur's romance with Gwen grows stronger and new characters and friends are introduced. Characters like the Great Dragon and Lancelot return to help Merlin and Arthur defend Camelot. Meanwhile, Morgana finally returns, having survived her poisoning by Merlin, and everyone is relieved and happy. However, Morgana is not who she seems to be anymore because she has now become evil by her half sister Morgause and only Merlin and Gaius know this. Will everyone know Morgana for who she really is or will it forever remain a secret?
taken from BBC Press Office, Source
Trailers for Series 3:
Trailer #1 : http://www.youtube.com/watch?v=7-LBH-YPlYE&feature=player_embedded
Trailer #2 : http://www.youtube.com/watch?v=8IqWPtGdGXw&feature=player_embedded
Trailer #3: http://www.youtube.com/watch?v=YApduFHGcmI&feature=player_embedded
Trailer #4 : http://www.youtube.com/watch?v=juIFy4u19ug&feature=player_embedded
Trailer #5 : http://www.youtube.com/watch?v=tp3Oa0rYPn0
Episodes
No.
Title
Director
Writer

Original

Air Date

UK Viewers

(Million)

Plot Summary
1
The Tears of Uther Pendragon (Part 1)
Jeremy Webb
Julian Jones
11/09/10
6.49
It's been a year since Morgana went missing. After a long search, she is finally found wandering in the woods, and nobody but the King can rejoice more. Morgana tries to put the past behind her, and she tries to make Merlin her friend again. But Merlin does not fall for her ploy, as he knows she is not the Morgana he used to know. He soon discovers that Morgana is part of a plot to drive Uther insane, and help a rival king conquer Camelot.
2
The Tears of Uther Pendragon (Part 2)
Jeremy Webb
Julian Jones
18/09/10
6.06
After Kilgharrah comes to Merlin's rescue, Morgana and Morgause step up their plan to take control of Camelot. With Uther still under a powerful enchantment, it's up to Arthur to defend Camelot. But Cenred's men are not the only threat; an army of the dead have been raised by Morgana and Morgause. Merlin knows that the only way to stop this is to defeat Morgana, but how can he defeat her and keep his secrets at bay?
3
Goblin's Gold
Jeremy Webb
Howard Overman
25/09/10
6.22
Merlin stumbles upon a secret chamber beneath the castle and releases the mischievous goblin trapped inside. The goblin brings chaos to Camelot as the King goes bald overnight and Arthur and Gwen embarrass themselves in front of each other. Soon, the goblin has possessed Gaius, who suddenly develops a thirst for gold and ale. Will Merlin be able to capture the goblin and set things right before any serious damage is done?
4
Gwaine
David Moore
Julian Jones
02/10/10
6.42
An enigmatic young man named Gwaine comes to the rescue of Arthur and Merlin when they find themselves outnumbered in a bar. He fights well, and all three escape, but Gwaine is seriously injured. The prince brings him back to Camelot to recover under Gaius' care. Once his strength is regained, Merlin is faced with the task of looking after Gwaine, who causes plenty of trouble for the young warlock by drinking, flirting with the ladies, and running up debts all over the kingdom. Meanwhile, two knights of dubious origin come to the castle, plotting to murder Arthur. Merlin and Gwaine discover their plan, but when the word of two noblemen is pitted against the word of Gwaine, a commoner, all seems lost, and the two friends must use all of their combined powers to save the prince.
5
The Crystal Cave
Alice Troughton
Julian Jones
09/10/10
6.36
Whilst out with Arthur, Merlin encounters an old sorcerer named Taliesin. Taliesin takes Merlin into the birthplace of magic, the crystal cave. Within its halls, Merlin receives glimpses of the future. Though initially seen as a blessing, it becomes a curse when a vision portrays Morgana about to kill Uther. Merlin must try his best to thwart Morgana's plans, or the consequences could be dire. But altering destiny is a risky job, and when the visions are not all that they appear to be, will Camelot have to pay for Merlin's misinterpretation?
6
The Changeling
David Moore
Lucy Watkins
16/10/10
6.40
Princess Elena arrives in Camelot to visit Uther. Uther arranges a marriage between Arthur and Elena, but her nanny Grunhilda is working with the Sidhe Elder, who plans to use this marriage to take over Camelot. Will Merlin be able to stop their wicked plan or will Arthur make the biggest mistake of his life?
7
The Castle of Fyrien
David Moore
Jake Michie

23/10/10

6.82
Gwen is kidnapped by Cenred's men and taken to his castle where she is united with her estranged brother Elyan. Cenred tells Gwen to travel back to Camelot to bring Arthur to him or Elyan will be slaughtered. Will Merlin and Arthur be able to save Elyan or will Gwen lose someone she loves again meanwhile Morgana and Morgause try to kill them along the way?
8
The Eye of the Phoenix
Alice Troughton
Julian Jones
30/10/10
6.92
Arthur goes on a quest to retrieve the Golden Trident from the Fisher King's Realm. Morgana gives him a bracelet containing an eye of a Phoenix which will drain the life force of Arthur. Merlin (with the help of Gwaine) goes to the Fisher King's Realm to save Arthur. Will he succeed or will Arthur die?
9
Love in the Time of Dragons
Alice Troughton
Jake Michie
06/11/10
6.90
When Alice, a physician and an old love of Gaius returns to Camelot he is once again smitten. However, she does not come alone and brings a Manticore with a plan to kill Uther by poison from its scorpions tail. Merlin tries to tell Gaius but he won't listen. Will Merlin be able to bring Gaius to his senses before it's too late?
10
Queen of Hearts
Ashley Way
Howard Overman
13/11/10
7.37
Morgana has visions in which she sees Guinevere becoming Queen of Camelot. In order to prevent her visions from coming true she plots to have Gwen branded a witch and being burnt at the stake. Merlin must quickly devise a plan to save Gwen but it leads to disastrous results for himself.
11
The Sorcerer's Shadow
Ashley Way
Julian Jones
20/11/10
7.32
A new tournament descends on Camelot, and a warrior known as Gilli sets his sights on victory. Gilli uses magic in the tournament to increase his chances of victory, and by doing so he begins to realize the true nature of his powers. Merlin is torn between two options: will he choose to help Gilli or save Camelot?
12
The Coming of Arthur (Part 1)
Jeremy Webb
Jake Michie
27/11/10
Arthur and Merlin retrieve a magic artifact on a mission, however they are captured by a slave trader known as Jarl. Rescued by Gwaine, the artifact falls into the hands of Morgause and Morgana, can they be stopped?
13
The Coming of Arthur (Part 2)
Jeremy Webb
Julian Jones
4/12/10
Morgana has been crowned Queen of Camelot, and brings about its downfall. Arthur forms a resistance against the new monarchy, Merlin believes he'll struggle and goes to retrieve Excalibur. Can the new monarchy be stopped?
Cast
Main Cast
Cast to Reappear
New cast
Rumors
There had been numerous rumors about series 3. Before its conclusion, some of them were:
a dragon egg would be seen
Nimueh would return
Lancelot's return would lead to problems with Arthur and Gwen's relationship
Morgana would slap Gwen across the face
Logan Lerman would play Gilli in the Socorers Shadow