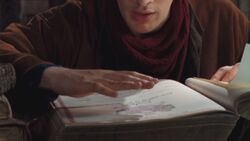 Page Copying Spells are incantations used to duplicate the contents of written texts and drawings.
When he learned that only those of noble blood were allowed to become Knights, Merlin used his magic to create a seal of nobility that identified Lancelot as the fifth son of Lord Eldred of Northumbria. He copied the seal from a book in the castle library (Lancelot).
When she duplicated Camelot's siege tunnel plans, Morgana placed the drawings over a piece of cloth, then incanted a spell that caused the plans to glow as if heated. When she removed the page, an imprint of the drawings was left on the cloth (The Hunter's Heart).
Community content is available under
CC-BY-SA
unless otherwise noted.