Merlin in Need was a special episode made for Children in Need 2009 during the course of second series of Merlin and broadcasted on 20 November 2009.
Synopsis
Edit
The kingdom of Camelot is under the influence of dark magic. Even the King has succumbed to it, but he is luckily making the most of this new threat to raise money for the yellow teddy bear Pudsey.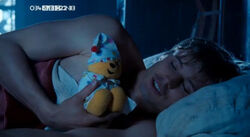 Sitting on a table with Gaius standing in front of him, Uther Pendragon comments to Gaius that a dark magic is spreading across the land and Gaius confirmed he saw it. A flashback shows Gaius in his chambers with a microwave, taking out a microwaveable dinner of chicken tikka masala for Merlin.
Back with Uther, Gaius further comments that Morgana has fallen to the spell's effect, with a flashback showing Gwen doing Morgana's hair. Morgana smells a strange smelling potion and asks Gwen what it is. Gwen answers that it is just a bit of product and that it would be bad for Morgana to have flat, lifeless hair, something Morgana agrees on before Gwen pulls out a hairdryer and asks Morgana where she is going on holiday.
Back with Uther, the king suggests that they warn Arthur about the spell, but Gaius says that he too has fallen for the effects. In yet another flashback, Merlin is putting out the candles in Arthur's chambers and says goodnight. Arthur, already in bed, calls him back and says that Merlin forgot something. Merlin comes over to hand Arthur a Pudsey teddy bear, which Arthur then cuddles as he falls asleep.
Uther comments that he has not fallen for the spell's effects. Gaius replies that Camelot needs his, Uther's, strong leadership in the time of need. A ringing is then heard, and Uther stands up to pull out a mobile phone (the shot also reveals the guard behind him being armed with a machine gun, which is pointed at the king). Uther speaks into the phone rather aggressively, saying that whoever is on the other end was "CCed in the e-mail," and tells them (with a fourth-wall-breaking glance at the camera) to "Give [their] money to Pudsey or [he would] throw [them] in the stocks" in front of a shocked Gaius. After hanging up, Uther notices Gaius staring at him and asks "What?". Gaius exclaims: "I don't believe it!"
The non-canonical mini-episode's punchline - Gaius exclaiming "I don't believe it!" - is in reference to the actor's, Richard Wilson's, longtime catchphrase from his earlier series One Foot in the Grave.
Community content is available under
CC-BY-SA
unless otherwise noted.