Merlin (also called Emrys) is the hero and protagonist of the series. He is a warlock, the last Dragonlord in existence, the only son of Hunith and Balinor, Gaius's ward and apprentice, and the best friend and manservant of the late King Arthur. He is also a creature of the Old Religion.
After leaving his childhood home for Camelot, Merlin became the manservant of Prince Arthur. From then on, Merlin began to protect and guide Arthur on his journey to the throne; according to the Great Dragon, it was his destiny to do so. Merlin was also destined to become the greatest and most powerful sorcerer to ever live; to use his powers to free people of magic and unite the Old Ways with the new; and to help Arthur reunite the kingdoms of the land into Albion and create an era of peace and prosperity.
BiographyEdit
Early Life Edit
Merlin was born to Hunith and Balinor in Ealdor, a small outlying village in the kingdom of Essetir. Near the end of the Great Purge, Gaius had helped Balinor, a Dragonlord, escape the slaughter of his people and arranged for him to stay with Hunith. The two fell in love, but Uther eventually discovered Balinor's whereabouts and sent men to arrest him. Balinor was forced to flee Ealdor and left Hunith behind, unaware that she was pregnant with his son (The Last Dragonlord).
Unlike most sorcerers, Merlin was born with the ability to use magic. According to the Great Dragon, Merlin's birth had been prophesied by many cultures. The Druids, for example, referred to him as "Emrys" (The Beginning of the End).
Life could be difficult in a village as small and isolated as Ealdor. Food was scarce and everyone was expected to pitch in and help with the harvest. Merlin had one friend growing up, William, who was aware of his magic. At some point in their childhood Will convinced Merlin to use his magic to fell a tree, a stunt which nearly flattened Old Man Simmons (The Moment of Truth).
Finding a Purpose Edit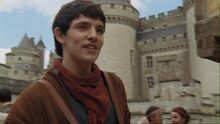 When Merlin was in his late teens, Hunith grew worried by how at odds he was with the people of Ealdor and decided to send him to live with Gaius in Camelot. She hoped that the elderly physician would be able to teach him to control his magic and help him find a purpose for his gifts.
Soon after he arrived in Camelot, Merlin saved Gaius from a fatal fall from a balcony in his chambers. The physician was intrigued by his instinctive use of magic, at one point declaring it to be impossible, but nevertheless discouraged him from using it. The king, Uther Pendragon, had outlawed all forms of magic twenty years ago, and anyone caught breaking this law was sentenced to death.
Merlin spent his first few days in Camelot helping Gaius while the physician tried to find some paid work for him. He soon found a new friend in the Lady Morgana's maidservant, Guinevere, and an enemy in Prince Arthur Pendragon. After one of their altercations escalated into a mace fight that Merlin tried to win with his magic, Gaius grew impatient with his carelessness and advised him to control himself. Merlin, however, angrily protested that he didn't want to. Without magic he was a nobody and always would be, and he would rather die than not be able to use it.
That night, Merlin was awakened by a voice calling his name. He followed it to the dungeons beneath the castle, where he discovered the Great Dragon. The dragon told Merlin that he was destined for great things, and that he would aid Arthur in his destiny to become the Once and Future King and unite the land of Albion. Skeptical, Merlin informed the dragon that Arthur was an idiot, but dragon merely replied that perhaps it was his destiny to change that.
The dragon's words had an impact on Merlin, who had been searching for a purpose since he arrived in Camelot. As such, when sorceress Mary Collins tried to avenge her son's execution by killing Arthur, Merlin didn't hesitated to use his magic to save the prince's life. As a reward for his actions, Uther appointed him as Arthur's personal manservant (The Dragon's Call).
Merlin was far from thrilled with his new position. He didn't know anything about being a servant and Arthur was often impatient with his attempts to learn, especially when they prevented him from concentrating on his performance in Camelot's annual tournament. However, the tension between the boys began to lessen as Merlin got the hang of his new duties.
After Sir Ewan suffered a snakebite while fighting Knight Valiant in the tournament, Merlin discovered that Valiant was using an enchanted shield to cheat. Knowing that the King would never believe a servant over a knight, Merlin and Gaius came up with a plan to cure Ewan so that he could testify before the court. Merlin obtained a sample of the venom for Gaius by decapitating one of the snakes on Valiant's shield, then went to inform Arthur, who was going to face the knight in the tournament finals.
The prince was skeptical of Merlin's story at first, but ultimately chose to believe him after he swore that he was telling the truth. Arthur requested an audience with his father and publicly accused Valiant of sorcery, but after Ewan was found dead (having been attacked by another of Valiant's snakes) their case against him fell apart. Arthur was forced to recant his accusation and apologize to Valiant. Angry and humiliated, he later fired Merlin from his service.
Merlin was deeply upset by Arthur's actions and decided that it couldn't be his destiny to protect someone who hated him. When he told the dragon as much, however, the creature merely replied that the half cannot truly hate that which makes it whole and that this was not the end, but the beginning. Initially, Merlin was not comforted by the dragon's words, but after Gwen encouraged him to pursue the truth, he decided to expose Valiant's treachery by letting everyone see the snakes for themselves.
He searched the spell book that Gaius had given him for a spell that would bring inanimate objects to life, then spent the night practicing it on a statue of a dog. He perfected it by morning and rushed to the tournament grounds, where Arthur and Valiant had already begun fighting. Merlin watched the fight from afar at first, then, after the knight disarmed the prince, he incanted the spell and brought the snakes on the shield to life, exposing Valiant before all of Camelot. He was later rehired as Arthur's servant (Valiant).
Early Adventures Edit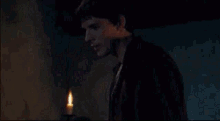 When not working as Arthur's servant, Merlin would frequently use his magic to help people, often without thinking of the consequences. On one such occasion, he used a magical poultice to cure Gwen's father of a mysterious plague that stricken the people of Camelot. His attempt to help soon backfired, however, when Tom's sudden recovery led Uther to believe that Gwen was a sorceress and therefore the source of the disease.
Devastated by this turn of events, Merlin tried to stop Gwen's execution by confessing to what he'd done. When that failed, he and Gaius went to the reservoir and discovered that the plague was being caused by an Afanc in the water supply. Merlin confronted it with Arthur and Morgana and used a combination of fire and wind to kill the creature. His actions proved Gwen innocent and she was released from prison (The Mark of Nimueh).
Merlin's attempt to help also had unforeseen consequences for himself. It brought him to the attention of the sorceress Nimueh, who was responsible for conjuring the Afanc. Seeking revenge for his interference, Nimueh snuck into Camelot disguised as a maid in Lord Bayard's employ and informed Merlin that her master had laced Arthur's goblet with poison.
Merlin immediately ran to warn Arthur, but Bayard was deeply offended by his accusations and Uther decided to settle the matter by commanding Merlin to drink from the cup himself. Ignoring Arthur's protests, Merlin did as he was asked and collapsed moments later, proving that the goblet was poisoned. Gaius later discovered the petal of a Mortaeus flower stuck to the inside of the cup and determined that an antidote could only be made from the leaves of that same flower. If Merlin did not receive the antidote in three or four days, he would surely die.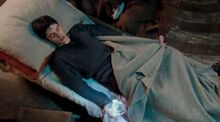 Upon hearing this, Arthur defied his father's orders and rode out to the Forest of Balor to find the flower. He ran into Nimueh along the way, who led him into a trap and then left him to die. Though unconscious and a long distance away, Merlin subconsciously sensed Arthur's plight and sent a magical light to guide him to safety.
When Arthur returned to Camelot with the flower, he was arrested and taken to the dungeons for disobeying his father's orders. Fortunately, Gwen managed to retrieve the flower and brought it to Gaius, who completed the antidote and saved Merlin's life (The Poisoned Chalice).
Merlin next used his magic to help a swordsman named Lancelot, who wanted to become a knight but was prohibited by the First Code of Camelot, which decreed that only men of noble blood could serve as knights. Wanting to repay Lancelot for saving him from a Griffin, Merlin used his magic to forge a fake seal of nobility and talked Arthur into letting him try out for the knights. With some help from Guinevere, who provided clothes and armour to help Lancelot look the part, the ruse succeeded and Lancelot was made a Knight of Camelot.
However, this plan also backfired in the end. After Uther discovered that his seal was a forgery, Lancelot was stripped of his knighthood and thrown in jail. Horrified by this turn of events, Merlin apologized to Lancelot for making him lie, but the swordsman insisted that he wasn't to blame. He told Merlin that it had been his choice to go through with the plan and that the punishment was his alone to bear.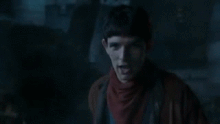 Later, when Arthur rode out with a company of knights to fight the Griffin, Merlin and Lancelot (who had been released from prison by Arthur) set out to follow them. Merlin enchanted Lancelot's spear to give him the power to kill the Griffin, and in doing so revealed his magic to his new friend.
Lancelot promised to keep Merlin's secret, but refused to take credit for killing the Griffin when he knew that Merlin was truly responsible. As such, he decided to leave Camelot with the hope that fate would one day grant him another chance to become a Knight of Camelot. As he watched Lancelot ride away, Merlin hoped that they would meet again one day (Lancelot).
After Morgana was stricken with a mysterious illness, sorcerer Edwin Muirden secretly used magic to cure her and quietly set out to undermine Gaius. Merlin was delighted when Edwin encouraged him to use his magic and offered to teach him about it, but was deeply upset when Edwin replaced Gaius as court physician.
When he discovered that Edwin had used Elanthia beetles to cause Morgana's illness and was going to use them to kill Uther, Gaius confronted Edwin with the truth. The sorcerer used his magic to surround Gaius with fire, intending to kill him, but Merlin arrived and used his own magic to kill Edwin before he could succeed. He later used his magic to save Uther from Edwin's beetle despite the risk of his powers being discovered (A Remedy to Cure All Ills).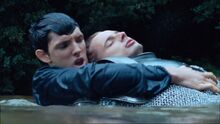 Merlin also used his magic to save Arthur when the exiled Sidhe Aulfric and his daughter Sophia enchanted him and tried to sacrifice him to the Sidhe Elder. After his attempt to confront them directly failed, he chased them to the Lake of Avalon and arrived just in time to see Sophia use her magic to force Arthur under the water.
Merlin quickly seized Sophia's abandoned staff and used it to kill her and her father, then dove into the lake and pulled Arthur to the surface. Later, back in Camelot, he and Gaius explained Arthur's lapse in memory by telling him that he'd tried to elope with Sophia the night before and Merlin had been forced to knock him out with a lump of wood in order to bring him back home (The Gates of Avalon).
Difficult Decisions Edit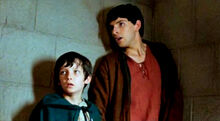 Merlin was also faced with a number of life altering choices after he came to Camelot. When he and Morgana conspired to save Mordred from capture and execution, the Great Dragon advised him not to protect the boy because he was destined to kill Arthur.
The dragon's prediction forced Merlin to choose between helping the Druid boy escape and allowing him to be captured and killed. Though the latter choice would ensure that Mordred's destiny never came to pass, Merlin ultimately chose the former after the boy begged him for help (The Beginning of the End).
When Arthur challenged the wraith of Tristan de Bois to a duel, Merlin asked the Great Dragon to burnish a sword so that it would have the power to kill the undead. The dragon was reluctant at first, but ultimately agreed to grant his request if Merlin would promise that the sword would be wielded by Arthur, and Arthur alone.
Unbeknownst to Merlin, however, Uther and Gaius had carried out their own plan to save Arthur's life by conspiring to drug him. Merlin tried to keep his promise by suggesting that Uther would be better off with his own sword for the duel, but the king would not be dissuaded from using Excalibur, and with its aid he successfully defeated the wraith.
The dragon was furious when he learned that Merlin had failed to stop Uther from wielding the sword and ordered him to take it far away from Camelot, to a place where no mortal man could ever find it. Merlin later retrieved the sword from the armoury and cast it into the Lake of Avalon (Excalibur).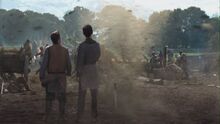 Merlin also had a difficult choice to make when Arthur, Gwen, and Morgana helped him to defend Ealdor from bandits. Though Arthur immediately set to work training the villagers to defend themselves, it soon became apparent that they weren't warrior material. Gwen and Morgana in particular were certain that they had little hope of holding off Kanen and his men.
Merlin's childhood friend Will shared their opinion and believed that Merlin should use his magic to defend the village. When Merlin objected that revealing his powers would mean leaving Camelot for good, Will accused him of caring more about Arthur's opinion than about protecting his friends and family. He said that he was abandoning them. Upset by his words, Merlin began to wonder if maybe he should reveal his magic if it meant saving everyone.
In the end, Merlin decided that if Arthur didn't accept him for who he truly was, then he wasn't the friend he'd hoped he was. He summoned a whirlwind during the battle in full view of Arthur and used it to attack the bandits, forcing them to flee. Afterwards, Arthur demanded to know which of them had used magic, but before Merlin could confess, Will (who had been fatally injured) chose to protect Merlin's secret by taking the blame himself (The Moment of Truth).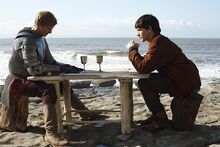 When Arthur unleashed a curse upon Camelot by killing a unicorn, Merlin tried to help the prince lift the curse by helping him pass the tests that Anhora, the Keeper of the Unicorns, gave him. The prince passed the first test but failed the second, after which Camelot lost the last of its supplies.
Aware of how desperate Arthur was to end his people's suffering, Merlin went in search of Anhora and asked him to give Arthur another chance. After Merlin told him that he trusted Arthur with his life, Anhora chose to grant his request and instructed him to send Arthur to the Labyrinth of Gedref, where he would be given a final test.
Though Arthur told him to stay in Camelot, Merlin followed him to the Labyrinth but lost track of him in the maze. He was eventually captured by Anhora, but intended to use him as part of Arthur's test. Once Arthur had joined them, the Keeper gave them a puzzle to solve. They were each given a goblet, one of which contained a deadly poison and the other a harmless liquid. The liquid from both goblets had to be drunk, but each of them was only allowed to drink from one goblet.
Merlin eventually solved the puzzle and suggested that they pour all the liquid into one goblet. That way, they could be sure it was poisoned, all the liquid could be drunk, and it would be from a single goblet. He intended to drink the poison himself, as he believed Arthur's life to be more important than his own, but before he could do so, Arthur distracted him and then drank from the goblet instead. Horrified, Merlin could do nothing but watch as the prince collapsed.
Much to Merlin's relief, however, Anhora revealed that the goblet had only contained a sleeping draught and that Arthur would recover shortly. By sacrificing his life for Merlin's, Arthur had proven himself to be pure of heart and had passed his final test. As such, the curse would be lifted (The Labyrinth of Gedref).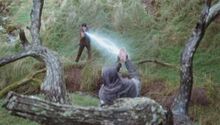 Merlin was faced with another difficult choice after Uther had Gwen's father executed for treason. When he overheard Morgana and Tauren, a rogue sorcerer, plotting to assassinate the king, Merlin went to the Great Dragon for advice on what he should do. Much to his surprise, however, the dragon advised him to do nothing, as only Uther's death would free Camelot from tyranny and allow magic to return to the land.
The dragon's words left Merlin conflicted about whether or not he should save Uther. However, after a conversation with Gwen reaffirmed his initial conviction that allowing the king to die would be the same as murder, Merlin chose to put aside his personal dislike of Uther and rushed to save him from Morgana's scheme (To Kill the King).
A Life For A Life Edit
After the Questing Beast was seen in Camelot, Merlin accompanied Arthur on a patrol to search for it. Merlin was able to use his magic to kill the Beast, but not before Arthur had been bitten.
Aware that the Questing Beasts's bite meant certain death, Merlin tried to use magic to heal Arthur. When that failed, he went to the Great Dragon, who instructed him to travel to the Isle of the Blessed. There he would find a servant of the Old Religion who had the power to save Arthur, but there would be a price to pay in return.
When Merlin arrived at the Isle of the Blessed, he discovered that the High Priestess the dragon had sent him to was none other than Nimueh. She agreed to save Arthur's life, but explained that someone else's life would have to given in return. After Merlin chose to sacrifice his own, Nimueh gave him a vial of water from the Cup of Life that would revive Arthur from the Questing Beast's venom. Unbeknownst to Merlin, however, Nimueh had not taken his life, but his mother's. She was stricken with a terrible illness and collapsed soon after she arrived in Camelot.
Grief-stricken and angry, Merlin went to the dragon and accused him of tricking him. The dragon replied that he had only known that the price would be a heavy one, and he'd sent Merlin anyway because they both needed Arthur to live. Only when he was king could magic return to the land and the dragon be set free. Realizing that his freedom was all that the dragon had ever cared about, Merlin angrily vowed that he would ensure he was never released for what he'd done.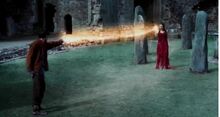 Desperate to save his mother, Merlin returned to the Isle of the Blessed intending to bargain his life for hers. Before he could do so, however, Gaius bartered his life for Hunith's instead. Horrified, Merlin blamed Nimueh and attacked her with his magic.
The ensuing duel ended when Nimueh struck him in the chest with a fireball, seemingly killing him. As she walked away, however, Merlin recovered and struck her down with magical lightning. He then harnessed the power over life and death and revived Gaius, using Nimueh's life as payment (Le Morte d'Arthur).
Cornelius Sigan's Return Edit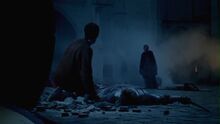 After an ancient tomb filled with treasure was discovered beneath the citadel, a con-artist named Cedric began muscling in on Merlin's position as Arthur's manservant. He eventually succeeded in turning the prince against Merlin by making it appear that he'd let Arthur's horses run off, which left the young warlock more angry and depressed than ever that Arthur couldn't see him for who he really was.
Soon afterward, the spirit of legendary sorcerer Cornelius Sigan possessed Cedric and summoned an army of animated gargoyles to destroy Camelot. Because Sigan was immortal, Merlin was forced to go to the Great Dragon for help. The dragon informed him that to defeat Sigan he would need a spell more powerful than anything he knew, but refused to give it to Merlin unless he promised to free him. After a moment's hesitation, Merlin agreed.
When Sigan realized how powerful Merlin was, he tried to persuade the young warlock to join him by telling him that Arthur didn't deserve his loyalty. He reminded Merlin that Arthur treated him like a slave and had cast him aside without a moment's thought. Though tempted by the offer, Merlin ultimately decided that it was better to serve a good man than to rule with an evil one and used the dragon's spell to seal Sigan's spirit back inside the enchanted jewel it had escaped from. Arthur later gave Merlin his manservant position back after Cedric's treachery was exposed (The Curse of Cornelius Sigan).
Arthur Incognito Edit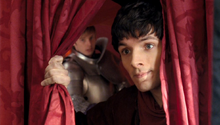 When Arthur decided to prove that he could win Camelot's annual jousting tournament without being given special treatment, Merlin convinced Gwen to let the prince stay at her house. He also hired a farmer from an outlying village to pose as Arthur's cover identity, Sir William of Deira.
Arthur was expecting Merlin to attend to all of his usual duties during the tournament. However, because the rest of the court was under the impression that the prince was away on a patrol, Gaius was expecting Merlin to help out with their household chores as well. Merlin was ultimately forced to use his magic to get all the work done, and at one point ranted at Gaius when the physician accused him of slacking off.
When Merlin learned that King Odin had sent an assassin to kill Arthur, he immediately rushed to Gwen's house to inform the prince of the danger. Later, at the tournament finals, he discovered the assassin had killed Arthur's opponent, Sir Alynor, and taken his place in the competition. Though the assassin managed to badly injure the prince with a blade hidden inside his lance, Merlin was able to incapacitate him by using his magic to break the strap on his saddle, which allowed Arthur to defeat and (unintentionally) kill him.
Though the court at large never learned of Arthur's deception during the tournament, Gaius figured it out after he discovered the assassin dead in Alynor's armour and was displeased that Merlin hadn't told him. He later forced Merlin to complete the chores he'd let Merlin out of after his earlier rant, including cleaning out the leech tank (The Once and Future Queen).
Helping Morgana Edit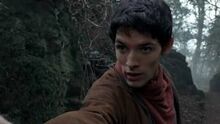 When Morgana's magic began to reveal itself, Merlin wanted to help her but both Gaius and the Great Dragon advised him not to get involved. The dragon in particular was adamant that Morgana could not be trusted and told Merlin that it would be better if she never knew the full extent of her powers. However, Merlin refused to abandon her and advised her to seek out the Druids, as they were known to help people like her.
Morgana took his advice and snuck out of the castle that very night. Unfortunately, her disappearance led Uther to believe that she'd been kidnapped and he consequently proclaimed that all prisoners suspected of magic would be executed unless she was returned to Camelot. When Merlin learned of this, he rushed to the Druid camp and told Morgana what had happened, but she refused to return to Camelot with him.
Soon afterward, Arthur and a patrol of knights arrived and launched an attack on the camp. Merlin tried to help Morgana and the others escape by using his magic to create a cloud of mist that disoriented Arthur and his men. But though he and Mordred (who was also at the camp) managed to get away in the confusion, Morgana was unable to get very far with her leg wound and was soon recovered by Arthur and the knights.
Later, back in Camelot, Merlin assured Morgana that she could trust him and promised that he wouldn't tell anyone about her magic. He ran into Arthur as he was leaving her chambers, who (under the mistaken impression that Merlin had fallen in love with Morgana) warned him not to pursue his feelings for his own safety. He also reminded him that someone of his class couldn't even be friends with Morgana, let alone anything else (The Nightmare Begins).
Rescuing Gwen Edit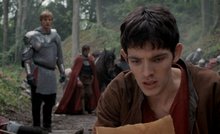 When Gwen was kidnapped and held hostage by bandits who believed her to be the Lady Morgana, Merlin and Arthur disobeyed Uther's orders and set out to rescue her. The prince was unusually impatient and reckless throughout their journey (at one point he even insisted that they take a shortcut through tunnels that he knew to be infested with Wilddeoren), which puzzled Merlin until he figured out that Arthur had fallen in love with Gwen.
Merlin was both amused and delighted by this and wasted no time in teasing Arthur about it. Much to his surprise, however, his joking challenge for Arthur to admit his feelings resulted not in mutual teasing, but in a frustrated confession that nothing could ever happen between him and Gwen. He lamented that his father wouldn't even let him rescue a servant, let alone marry one. Serious now, Merlin told Arthur that he could change that when he was king, and tried to cheer him up by assuring him that Gwen would wait for him if she truly returned his feelings.
Merlin and Arthur infiltrated Hengist's hideout just in time to save Gwen and Lancelot (who had also tried to rescue Gwen) from being eaten by Wilddeoren. During their escape, both Merlin and Arthur noticed that Gwen and Lancelot had developed feelings for each other, which left Arthur heartbroken. However, when Lancelot learned that Arthur had also had feelings for Gwen, he decided to leave the group so that he wouldn't come between them. Before he left he asked Merlin to tell Gwen that she had changed his life forever, but that some things could not be (Lancelot and Guinevere).
Troll Queen Edit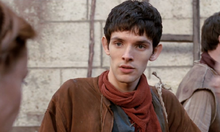 When a troll disguised as the Lady Catrina arrived in Camelot, Merlin was assigned to attend to her. Unlike most of Uther's guests Catrina was very kind to Merlin, but the warlock became suspicious of her after Gaius told him that she was supposed to be suffering from an incurable bone and he discovered that her manservant, Jonas, had a tail. He later used a mirror to spy on her from Arthur's chambers and discovered her true form.
Soon afterwards, Catrina used a necklace to enchant Uther into falling in love with her. When they announced their marriage plans to the court, Merlin tried to use the Spell of Revelation to reveal Catrina's true form, but she was able to resist its effects. He then tried to convince Arthur that his soon-to-be-stepmother was a troll, but the prince laughed at his claim and refused to believe him. Catrina and Jonas then conspired to trap Merlin in the catacombs beneath the castle. It took Merlin most of the night to perfect the spell he needed to escape, and by the time he broke free it was too late to stop the wedding.
In order to prevent any further interference, Queen Catrina accused Merlin of stealing her royal seal and forced him to become a fugitive. After he and Gaius left a false trail to make his pursuers think he was headed for the northern borders, Merlin began spying on Catrina and discovered that she was using a potion to maintain her disguise. He convinced Gaius to create a potion that looked and tasted exactly the same, then replaced Catrina's potion with the fake one. Because it contained no troll magic, the fake potion had no effect and Catrina's troll form was exposed during her coronation.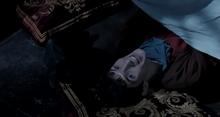 However, because Uther was still enchanted he was unable to see his bride for what she truly was. With no further options, Merlin went to the Great Dragon to find out how the break the enchantment, and through fits of laughter, the dragon informed him that Uther would have to cry tears of true remorse.
To this end, Merlin and Gaius convinced Arthur to fake his death by drinking poison. After the discovery of his son's death caused Uther to cry, the enchantment was broken and he was able to see Catrina for what she really was. Meanwhile, Merlin (despite interference from Jonas) was able to give Arthur the antidote and used his magic to help the prince kill the troll (Beauty and the Beast).
The Witchfinder Edit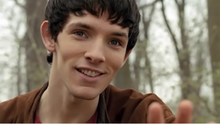 While collecting wood in the forest, Merlin took a break and amused himself by using magic to mold a nearby plume of smoke into the shape of a horse. Unfortunately, a peasant woman witnessed the incident and rushed to inform the king of what she'd seen. Determined to stamp out the last traces of magic in Camelot, Uther sent for Aredian, the Witchfinder, and hired him to find the sorcerer responsible.
Because he'd been named as a witness to the magic in the woods, Aredian insisted on questioning Merlin and quickly identified him as a suspect. He accused him of sorcery before the entire court and then conducted a search of his and Gaius's chambers. During the search, a magic amulet was discovered hidden inside a jar of powder. Aredian was delighted by the find and planned to inform Uther immediately, but before he could do so, Gaius stepped forward and claimed that the amulet was his in order to protect Merlin.
Horrified by what his carelessness had caused, Merlin went to the Great Dragon for advice on what he should do. He wanted to confess and save Gaius from execution, but the dragon talked him out of it by pointing out that if he were to die, then he would endanger the lives of all those who relied upon him. The dragon had no alternatives to offer, however, a