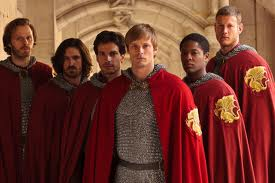 Knight of Camelot
is an honourary title awarded by the King of
Camelot
.
The knights have a specific code known as "The Knights' Code".
Two known rules of this code are:
1. All knights used to be of noble blood. However, Arthur later abandoned this code, by knighting Elyan, Lancelot and Percival, who were not of noble birth, (The Coming of Arthur). Arthur's new law states that men who show great bravery and honor are worthy of a title like knighthood where they work together, built on trust and companionship.
2. Once a challenge is taken up it must be seen through. In order to join the order, they must also undergo training overseen by Arthur Pendragon.
The knights of Camelot are exceptionally skilled - their presence prevented the fall of Camelot to the army of Cenred despite the latter boasting twice their numbers (although some of the outcome must be attributed to the castle's formidable defences).
History
Known Knights of Camelot
Current Knights (Alive)
Deceased Knights
Former/Deceased Knights
Gallery
In The Legend
In the Arthurian legends, the Order of The Knights of the Round Table was created by King Arthur after his marriage to Guinevere. Within the series the Order of Camelot could be seen as one predating the order Arthur creates. All of the names put forward so far of the knights of Camelot are names of actual knights mentioned in the legends.
In the legend, Tristan is also a knight, so there is a chance that he will return as one in series five.
Community content is available under
CC-BY-SA
unless otherwise noted.