Pendragon is the name of the royal family of Camelot. Uther conquered Camelot when he was a young man and declared himself as King. He and his family conform the Royal Family of Camelot. The members are:
Family Tree
Gorlois + Vivienne      Uther Pendragon + Ygraine de Bois   Tristan de Bois       Agravaine de Bois
   |          |                 |       |      +-----------------+  +-----------------+
   |          |                 |       |
   |          |                 |       |
   |          +--------+--------+       +--------------------+
   +                   |                                     |
Morgause*   Morgana Pendragon(illegitimate)          Arthur Pendragon

*Morgause is presumed to be the daughter of Gorlois; however, if she is truly Morgana's half sister, then she must be Vivienne's daughter, not Gorlois'.
Family Gallery

Uther Pendragon, King of Camelot Ygraine's husband, Arthur and Morgana's father, Morgause's uncle (through marriage), Vivienne's brother-in-law.

Ygraine Pendragon, Queen of Camelot
Uther's wife, Arthur's mother, Morgana's step-mother and aunt, Morgause's aunt, Vivienne's sister.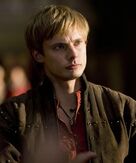 Arthur Pendragon, Crown Prince of Camelot
Uther and Ygraine's son, Morgana's three-quarter-brother, Morgause's cousin, Vivienne's nephew.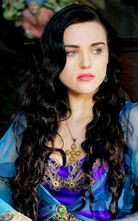 Morgana Pendragon, uncrowned Princess of Camelot
Uther and Vivienne's daughter, Morgause's half-sister, Arthur's three-quarter-sister, Ygraine's niece.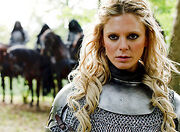 Morgause Le Fay,
Morgana's half-sister, Ygraine's niece, Arthur's cousinVivienne's daughter.
Also :
Vivienne Le Fay
Uther's sister-in-law, Ygraine's sister, Arthur's aunt, Morgause and Morgana's mother.
Family Moments