Guinevere, known simply as Gwen, is the sister of Elyan and friend of Merlin. She is in love with Arthur Pendragon, and will one day be his queen, even though she is currently a servant.
Biography
Early life
Little has been revealed about her background. She is the only daughter of a blacksmith named Tom, she has been the personal maidservant to the Lady Morgana since they were both young children. According to Merlin, she is one of the best seamstresses in Camelot and has learned from her father Tom how to mend armour and work with weapons. Gwen only mentioned her mother once, saying that she was a maid in Sir Leon's household and that Gwen had grown up with Leon. (The Coming of Arthur)
Servant and friend
Upon Merlin's arrival in Camelot Gwen befriends him. She praises him for standing up to Arthur Pendragon, the Prince of Camelot, when he was bullying one of the servants. After developing a friendship with him she quickly becomes smitten with him (The Dragon's Call) although Merlin is unaware of Gwen's feelings for him and simply loves her as a friend. (The Mark of Nimueh, The Poisoned Chalice, Lancelot et al)
Gwen has no known family other than her father. When Camelot was hit by a plague sent by Nimueh Gwen's father fell victim to it. Gwen begged Gaius to help him but there was no known cure. Merlin used magic to cure Tom as he couldn't bare to stand back and see her suffer when he had the power to save Tom. When news of Tom's sudden recovery reaches Arthur he arrested Gwen for witchcraft, although he disagrees with his father's assumption that Gwen caused the plague. She was saved when Merlin, Arthur and Morgana discovered an Afanc that was poisoning the water supply and destroyed it. (The Mark of Nimueh)
When a swordsman named Lancelot arrived in Camelot he was instantly attracted to Gwen, who in turn, wished to help him reach his goal of becoming a knight of Camelot. Like Merlin, she was the only one who knew that he wasn't a nobleman. Gwen helped Lancelot with his armour first when he was trying to become a knight and later when he went to Arthur defeat a Griffin. Gwen quickly grew to like Lancelot and also begged him not to go out to attack the Griffin, fearing that it would cost him his life. Gwen was upset when Lancelot left Camelot fearing that she would never see him again. (Lancelot)
When Arthur is challenged to a duel to the death with a wraith - his uncle Tristan De Bois - it is from Gwen that Merlin gets the legendary sword Excalibur she tells him that it is the finest sword her father ever made. It is from The Great Dragon the sword gains its powers. (Excalibur)
Gwen has shown she is capable of standing up for herself. When she is arrested for witchcraft she protests her innocence to Uther and Arthur. (The Mark of Nimueh) When Merlin, Morgana, Arthur and Gwen travelled to Ealdor to defend it against bandits lead by Kanen she took it upon herself to represent the women of the town. She convinced Arthur to let her, Morgana, and the other women of the village fight. Moreover she scolds Arthur for his lack of gratitude for the food the people give him. Arthur, rather than scolding her for showing him disrespect, apologises for his behaviour. Gwen also encourages Arthur when he begins to doubt their chances of beating Kanen. (The Moment of Truth)
Tom is killed by Uther after he is accused of harbouring a sorcerer, Tauren, leaving Gwen an orphan. Although she holds as great hate for Uther as a result she states that she wouldn't kill Uther if she had the power of life and death over him stating that "would make her no better than him." Ironically it is these words that prompt Merlin to foil an attempted assassination on Uther by Tauren and Morgana. Arthur assured Gwen after Tom's death that her home and job were still hers and to ask if she needed anything. (To Kill the King)
Arthur was bitten by the Questing Beast the kingdom prepared themselves for the fact that he would die but Gwen refused to give up on him. As she nursed him she told him that the only thing that keeps her going is the hope that one day he will be king. It is obvious that although she dislikes his attitude and behaviour most of the time, she sees that deep down he is a good man and she beleives that he will be a great King one day, and has faith that he will grow into the best leader Camelot has ever seen. When Merlin brought back water from the Cup of Life Arthur recovers. When they were alone Arthur reminded Gwen about the things she said about him, playfully teasing her. Flustered by his flirting, she denies having said anything complimentary to him and flees, leaving Arthur bemused. 
Gwen nurses Merlin's mother Hunith when her life is taken for Arthur's, instead of Merlin. Before he leaves to confront Nimueh Merlin tells Gwen that she should never lose her good heart. (Le Morte d'Arthur)
Falling in love
Gwen continues to aid Merlin in his adventures in every way she can. Growing up in Camelot she had been open about her dislike for Prince Arthur. However, she soon gets the opportunity to get to know him better (when he lives with her for a few days). She realizes her opinions of him had been too harsh and based on shallow conclusions (The Moment of Truth, The Once and Future Queen) She and Arthur begin to fall in love, though their different social classes create problems for them.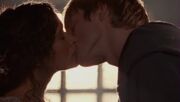 When Arthur stays with Gwen during the Jousting tournament they become very close. They initially clash over Arthur's rude behavior but Arthur soon seems genuinely sorry to have treated her so badly, he tries to make it up to her by attempting (and failing) to cook dinner for them. Gwen appreciates the effort he has gone to and they soon start to respect and like each other, the atmosphere becomes more comfortable and they begin to relish being in each others company laughing, teasing and confiding in each other. Before Arthur leaves her home for the final time he impulsively kisses her (The Once and Future Queen) but later tells her that it is not possible for them to be together as Uther would never understand, Gwen is accepting of this but they are both reluctant to part ways and have since developed the habit of staring at each other intensely whenever they come into contact.
Morgana suffers from nightmares and when she wakes up always calls for Gwen to comfort her, Gwen is worried for her friend and often stays awake with her so that she can look after her, she remains unaware that the nightmares are caused by magic and that Morgana is a seer. (The Nightmare Begins) Gwen and Morgana have clearly grown apart in series 2. Morgana had no idea that Gwen had fallen in love with Arthur because Gwen had chosen not to share her problems with her and Morgana had been too troubled by her own problems to notice, she has also chosen not confide in Gwen about her magical abilities, although Morgana later realises Gwens affections when Arthur was to be married. (The Changeling). 
Reunion with Lancelot
Gwen is still close friends with Merlin but no longer has any romantic feelings for him. She is reunited with Lancelot when she is taken prisoner by an outlaw who believes her to be the lady Morgana. Unaware that Arthur has defied his father and is on his way to rescue her, she concludes that Uther would never pay a ransom for her and believes that she has been abandoned to die. She refuses to show her captors any fear, but privately despairs that nobody in the world seems to care for her.
Lancelot has become an entertainer of sorts, he has fallen on hard times and now gets paid to sword fight for other (richer) people's amusement. He is participating in a cage fight when he spots Gwen being held captive. He vows to save her, and tells her that she gives him a reason to live. Gwen is overjoyed to see Lancelot and seems overwhelmed by his feelings for her at first, she soon accepts them and even returns his sentiments.
Throughout her time with Lancelot Gwen doesn't realize that Arthur is on his way to her and has admitted to Merlin that he is falling in love with her. She has given up hope of ever being with Arthur as it is just too difficult, she thinks Arthur would never defy his father and marry a servant. Her relationship with Lancelot is more realistic to her as they are of the same class/background and are very similar people. She has nothing preventing her from being with Lancelot and the relationship is easier than her complicated one with Arthur. Lancelot is also more vocal about his feelings for her, whereas Arthur finds it difficult to express how he feels about her.
Her brush with death has affected her and she seems determined to take whatever happiness she can get, she no longer wants to be alone and is happy that she has found Lancelot. When Lancelot sees that Arthur and Gwen care deeply for each other he gives up Gwen without a fight refusing to come between them. He tells Merlin to tell Gwen that "some things can't be" and sneaks away in the night when Arthur and Gwen are sleeping. Waking up to discover Lancelot gone Gwen cries silently, heartbroken to be abandoned again. Arthur looks sad for her and equally uncomfortable over the situation. They ride back to Camelot and as Gwen is reunited with Morgana she notices how heartbroken Arthur looks and appears sorry that her impulsive behavior with Lancelot has hurt Arthur. It is clear that despite everything Arthur and Gwen still have strong feelings for each other.(Lancelot and Guinevere)
Love for Arthur
When Arthur refused to follow his fathers orders (Beauty and the Beast) and punish a man who can't pay the new tax Uther has imposed on his people, Gwen witnesses Arthur giving people back their money and smiles admiringly at him - although he doesn't see her. Later in the episode, she visits Arthur in his quarters and comforts him (he is upset at his fathers uncaring attitude) he doubts that he can be a king and a friend to his people. Gwen insists he can and that one day he will prove his father wrong. She tells him that he has a kind heart and should never allow himself to change for anyone. As Arthur listens to her and starts to cheer up, Sir Leon interrupts them by summonning Arthur to the great hall. Even after the events with Lancelot, Gwen and Arthur remain close; Gwen's respect and admiration for Arthur is growing and Arthur is clearly happy that Gwen would seek him out and he seems to appreciate her advice. 
Arthur was later enchanted by a king to fall in love with another king's daughter as part of a plot to ruin a potential peace treaty between their kingdoms and Camelot. Around this time, Gwen started to regain trust in Arthur's feelings for her. However, she was left heartbroken when she saw him with Vivian. Merlin later sought her out and informed her that Arthur was under the control of a love potion and she was the only one who could break it. Gwen went to Arthur and kissed him, which broke the spell. Arthur later apologized for the pain he caused her, and Gwen accepted it, realizing that she had caused him pain when she was with Lancelot. However, when Arthur professed that he never loved anyone other than her, she sadly told him she couldn't be his queen, at least until things could change. She also spoke with Gaius of it and he insisted that no love was impossible. After Arthur and Merlin's battle with the Great Dragon Gwen ran to Arthur and hugged him when he returned.
Morgana's return and betrayal
When Morgana returned to Camelot after being taken away by Morgause, Gwen was relieved but she became suspicious of Morgana's curt and civil nature due to the fact that Morgana had secretly turned evil (The Tears of Uther Pendragon). Her suspicions of Morgana increased when she saw Morgana with an old woman who was actually Morgause in disguise to the point that she secretly discovered that Morgana had magic and she told Gaius of her discovery. This made Gwen aware that Morgana had turned against Camelot, making her the only person other than Merlin and Gaius to know of Morgana's true loyalties (The Eye of the Phoenix).
When Morgana had been tormented by dreams of Gwen becoming queen, she tried to stop Gwen and Arthur's romance after encouragement from Morgause. When Morgana suggested it to Arthur, Gwen and Arthur decided to spend a day together away from the city. They had a picnic in the woods, treating each other as equals. When Gwen went to kiss Arthur, they were interrupted when
Uther
and Morgana 'coincidentally' come across them during a ride.
Back at Camelot, Uther laughed at what he'd seen and told Arthur that he was young once and tempted by servings girls. Arthur seemed shocked, but suprised that his father had given him his blessing. However, Uther was unaware that Arthur was actually in love with Gwen, and commanded that Arthur would never see Gwen again. When Arthur insisted that he refused to abandon his feelings, Uther orders that Gwen be banished, leaving Arthur furious. When Arthur revealed that he intended to leave Camelot with Gwen and later return and take the throne, Morgana decided to frame Gwen for casting a love spell on the prince. Uther sentenced her to death, much to Arthur's fury and Morgana's amusement. As she was dragged away to the dungeons, Arthur kissed her again, and she caught sight of Morgana smirking at her. When Merlin visited Gwen, she informed him of her suspicions of Morgana. Unbeknown to Gwen, Merlin cast an ageing spell on himself and pretended to place an identical poultice to that planted by Morgana under Arthur's pillow, intentionally getting caught so Gwen could go free. She and Arthur later agreed that they had to keep up the master-servant charade, but that they do love each other, and he promised her that when he is king, she will be his queen (Queen of Hearts).
When an army of immortal soldiers invaded Camelot, Gwen pretended to remain loyal to Morgana but helped Sir Leon escape Camelot. She was reunited with Arthur, Merlin, Gwaine and Elyan. Later her old love interest Lancelot and his friend Percival arrived. Gwen was not among the group that went to bring an end to Morgana's reign but returned to Camelot after Morgana fled with her unconscious or dead sister Morgause (The Coming of Arthur).
Personality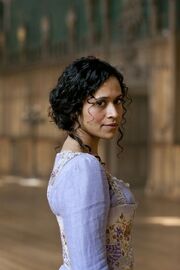 At first Gwen was shy and awkward and often found herself in situations she didn't want to be in or saying things she didn't mean to say. This usually happened around male characters, particularly Merlin and Arthur. Merlin immediately suggested that despite disliking him as a person Gwen had a crush on Arthur although this was untrue and he teased her about her attraction to "rough, tough save-the-world" types. (
The Dragon's Call
,
Lancelot
)
She took a liking to Lancelot although - as with Arthur - Gwen claimed that he wasn't her type when Merlin asked who she would choose between Arthur or Lancelot. Gwen also developed an unrequited crush on Merlin, attracted to the fact he was more or less the opposite of Arthur. (The Dragon's Call) However Gwen's attempts to reveal her feelings for him frequently fell flat. For example when Merlin stated that she wouldn't know the right man for her if he was standing right next to her Gwen looked at him and said "You're probably right." (Lancelot)
As time went on she began to stand up for herself. It was she and Morgana who convinced Arthur to let the women of Ealdor fight when they were attacked by bandits, despite the fact that she was a servant. (The Moment of Truth) As a result Arthur began to acknowledge her more, seeking her out to promise her that she may keep her house and job after she was orphaned (To Kill the King), and flirting with her after he recovered from the Questing Beast's bite. (Le Morte d'Arthur)
By series 2 her confidence and self belief had grown significantly, she now saw Arthur as someone approachable and she often offered him counsel and comfort when he needed it. She had to mother Morgana as her nightmares got worse, often staying with her through the night and worrying about her when she was away from her. She is unafraid to berate and challenge people in positions of power but she has confided in Arthur that she sometimes finds it difficult to express what was truly in her heart. She is fast thinking and quick to speak up and defend both her friends and those who were unfairly treated. Gwen is very wise and mature for her young age. She was also considered to be beautiful by several people including Arthur, Lancelot, Gwaine and at least one of the villains, Hengist; indeed Hengist stated that she was as beautiful as Morgana (though Hengist had never met Morgana). Despite this Gwen was not a vain person.
Relationships
Merlin
Gwen first notices Merlin when he stands up to Arthur when Arthur is taunting a servant. When she introduces herself she admits that she thinks Merlin is brave and a real hero, and it's the beginning of a crush that develops over series one. Merlin makes her laugh and she admits that she likes that. At one point, after he was returned from the gates of death, she gave him a kiss. She appeared to be jealous of the attention Merlin paid to Nimueh , who was disguised as a handmaid (The Mark of Nimueh). However, Merlin only loved her as a friend and Gwen eventually lost romantic regard for him. She went on to develop feelings for Lancelot and Arthur.
The two remained very close friends, helping and rescuing each other on many occasions. For example, Gwen helped Merlin when home town was in danger, even risking her life to battle bandits (The Moment of Truth). In turn, Merlin and Arthur helped rescue Gwen and Lancelot from being eaten alive (Lancelot and Guinevere). Seeing Merlin as a mutual friend, both she and Arthur confide in Merlin about their feelings for each other. It was Merlin who discovered her kidnap in The Castle of Fyrian and she eventually confessed her situation. When Gwen went on a date with Arthur, Merlin boosted her confidence by telling her she looked lovely before he took her to see Arthur in the forest. When Gwen was in confinement, it was to Merlin that she shared her suspicions about Morgana.
Arthur
At first Gwen was disapproving of Arthur, believing he was arrogant and a bully. Eventually, however, she later came to believe in his potential to be a great king. In series two their relationship became closer, and Gwen was able to provide Arthur with council and comfort. Convinced by Merlin, Gwen agreed to harbor Arthur in her home so that he can participate incognito in a jousting tournament. Initially, Arthur was rude and insensitive toward Gwen, leading to an outburst on her part, which seemed to make him admire her. They shared their first kiss after Gwen gave Arthur a token for luck in a tournament. However, he later explained that their social standings made their love impossible, to which she replied perhaps things would be different when he became king (The Once and Future Queen). Arthur has often valued her opinion and listened to her advice, including her request for him to better himself by showing humility and appreciation. In The Witchfinder, Gwen convinced Arthur to help save Gaius's life. By series two, Arthur and Gwen had both realised that they had fallen in love, though Gwen also possessed strong feelings for Lancelot, which Arthur was aware and wary of.
Arthur has gone to great lengths to ensure Gwen's safety; going against his father's orders to rescue her (Lancelot and Guinevere), making Merlin promise to protect her should anything happen to him, and was willing to risk his life when The Great Dragon attacked her. In series three she has accepted that she is in love with prince Arthur, but still cannot be too vocal about it because of her status as a servent. She often visits him when he needs support, as they both still highly value each others opinion. Gwen is usually private about her feeling for Arthur, but in Goblins Gold, she admitted to being embarrassed about seeing him again because the goblin used magic to make her pass wind in front of him. Merlin asks why she is so worried, saying that everybody does it, but Gwen replies with 'not infront of people they have feelings for!' Merlin reassures her that Arthur will love her, 'warts and farts and all'. Feeling better after her chat with Merlin, she goes to see Arthur, but to her suprise, he has been turned into a donkey, in which he too, was highly embarressed, particularly because of all people, it was Gwen that saw him in that form. After the goblin had been detained, they both agreed not to talk about the recent events that had passed. This seemed to clear the air and they were both happy. Arthur was also jealous when Gwaine flirted with Gwen. Nonetheless Gwen was only amused by Gwaine's personality and remains loyal to Arthur.
Gwen later told Arthur that the idea of her and Arthur being together was insane to anyone apart from the two of them (although this wasn't quite true and Merlin and Gaius approved of their relationship). She also said that if he did marry Elena, she would stand by and watch him turn into the king Camelot deserves. However, she was visibly distraught on his wedding day, but When Arthur stopped the wedding she was relieved. they even flirted after the ceremony, she teased him about Elena being too good for him and Arthur replied that he had forsaken her for someone just as lovely, if not more so. She shows to be very caring and concerned for his welfare and didnt want to tell Arthur about being kidnapped for fear of anything happening to him. She told him that if anything happened to him she would never forgive herself. When Arthur made her promise to ride for Camelot to ensure her safety, she went back on it and stayed to make sure he returned safe. Later when Arthur was departing on a quest for the Golden Trident, Gwen went to see him before he left. Already knowing what she would say, Arthur reassured her that he would be careful, and kissed her good bye. Arthur knew what she would say however and . She was very worried about him while he was gone, especially when she found out about Morgana's magic, but was very happy and relived to see him safely returned.
When Gwen and Arthur are alone together in the woods they are completely natural and comfortable around each other. She tells him that she prefers him as Arthur, not prince of Camelot, and they share a kiss. Before she was imprisoned by Uther's decree, she cried out for Arthur and they shared another kiss before she was dragged away. She makes Merlin promise to look after Arthur as she believed she was going to die. When she is saved, her and Arthur agree to keep up appearences, but she said she'd count down the days until they could truly be together.
Tom
Gwen loved her father Tom and was desperate to save him when he fell fatally ill, and went to Gaius and Merlin to beg for help (The Mark of Nimueh). After being arrested for helping Tauren, Tom confessed that he only agreed to take the job to create a better life for Gwen, to which she replied that she was already content with her life. At the cause of Gwen, Morgana helps Tom break out of prison, but he was captured and executed on the spot. Gwen was devastated by his death and showed resentment toward Uther for his harsh ruling, but said that she would never kill Uther for his decision, as that would make her "as bad as him" (To Kill the King). She honoured her father to Uther in Queen of Hearts, which resulted in her being slapped by the king.
Elyan
Elyan was Gwen's brother, whom she hadn't seen for about four years. Gwen loved her brother a great deal but was slightly resentful about the fact that he hadn't contacted her in four years and that he put her, Arthur and Merlin in danger.
Morgana
Gwen had a close bond with Morgana who considered her to be her dearest friend in series one. She often comforted Morgana after she had a nightmare. Morgana often defended Gwen and Gwen's family against Uther when they were in trouble, to the point where she got thrown to the dungeons (To Kill the King). The pair shared bravery and strong scruples, and together went to help Merlin when his village was under attack (The Moment of Truth). They were both unafraid to defy Arthur's decision to keep the women out of battle, and eventually both fought in and survived the raid. When the two were captured by bandits, Gwen risked her life so that Morgana may escape, and the latter was hysterical to have Gwen rescued and refused to believe Uther when he said that Gwen was probably already dead (Lancelot and Guinevere). They started growing apart later in series two as a result of Gwen's love for Arthur and Morgana's magical abilities, both of which they kept secret from the other. When Morgana was taken away by Morgause, Gwen was very worried about her and missed her a lot.
When Morgana returns to Camelot, Gwen begins to realize how much darker she has become and this causes their friendship to deteriorate. When Arthur went on his quest to find the Golden Trident, Gwen discovered that Morgana had magic, making her realise that Morgana had turned against Camelot. Morgana discovered Gwen's feelings for Arthur when he was forced to marry a princess. Morgana later revealed Gwen's relationship with Arthur to Uther and accused her of being a sorceress in order to prevent a vision of Gwen being Camelot's queen from coming true. Gwen did see a smirk on Morgana's face, confirming her suspicions that her former friend had turned evil. However Gwen still pretended to be Morgana's friend. Morgana planned to have her executed when she discovered her conspiring with Sir Leon to break out of Camelot but Morgause said that she'd be more use alive.
Lancelot
Gwen took a liking to Lancelot, who had romantic feelings for her as soon as he met her. At first Gwen said to Merlin that Lancelot wasn't her type, but she later gained romantic feelings for him (Lancelot). Lancelot turned to Gwen to get armour and weapons before going out to kill a Griffin. Gwen was sad when Lancelot left Camelot thinking she would never see him again but they were later reunited while Gwen was the prisoner of Hengist. Lancelot said he had little to live for, but Gwen reprimanded him for this, saying that he was "everything beautiful in this word." He was determined to risk his life so that he may escape, to which she objected. He then told her that he would die for her a hundred times over, and Gwen kissed him before running away.
The two were reunited as prisoners when both were captured, and Lancelot professed his love for Gwen again before realising that she was present. After Arthur and Merlin came to their rescue, Lancelot noted that Arthur had taken extraordinary measures to rescue a maid and guessed that the prince harbored feelings for Gwen as well, which Merlin confirmed. Unwilling to come between Gwen and Arthur, Lancelot decided to depart, leaving a message for Gwen through Merlin saying that she had "changed him forever," but "some things cannot be" (Lancelot and Guinevere). Gwen burst into tears upon learning of his departure, and at this point seemed to share a stronger romantic bond with Lancelot than with Arthur. This later changed as her relationship with Arthur blossomed in later episodes.
In The Coming Of Arthur Part 2 he sees Arthur kiss her, once in the castle and another in public.
Gaius
Gwen was close friends with Gaius and went to him as soon as she discovered her father was seriously ill. She also gave Gaius a kiss on the cheek when Gaius was planning to leave Camelot (A Remedy to Cure All Ills). Gwen helped Merlin save Gaius from being executed by Aredian and helped free Gaius from the control of a goblin. She later went to Gaius after she discovered Morgana's treachery since she had no one else to turn to.
Gwaine
Gwaine had his eyes on Gwen from the moment he saw her. He flirted with her in the market but stopped when he realised it wasn't working. Gwen admired this about him told him that she appreciated it. When he had to leave, Gwen was saddened and assured him if Arthur was king, it would be different. It was her speech about Arthur that made Gwaine realise she loved him and was happy it wasn't just because of his technique. Gwaine came back to help Arthur at the Meleé but still had to leave. Gwen kissed him on the cheek to say bye, which was seen by Arthur and he became jealous.
Uther
Gwen hated Uther since he ordered his knights to kill her father but stated that she wouldn't kill him if she had the choice, as this would make her no better then him. Her hate for him increased throughout the series as he was the main obstacle in her and Arthurs relationship. He banished her and sentenced her to death after finding out about her relationship with Arthur, and even slapped her across the face for standing up for herself.
Leon
Gwen's mother was a maid in Sir Leon's household and Gwen and Leon grew up together. Though they saw little of each other as adults, due to Leon being a knight and Gwen being a servant, she broke Leon out of prison and helped him escape Camelot.
Abilities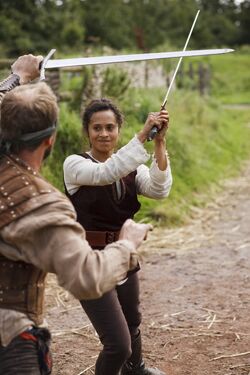 Gwen has no magical abilities. She was capable of planning alone as she demonstrated when retrieving a flower from Arthur after Uther locks him in the dungeon. (The Poisoned Chalice) Gwen knew pretty much everything about fitting armor, and making weapons from being the daughter of a blacksmith. (Valiant, The Moment of Truth) She also made a key to break Sir Leon out of the dungeons. Gwen was also capable of defending herself with a sword. (The Moment of Truth) However Arthur refused to allow her to join in the infiltration of Camelot. (The Coming of Arthur).
Legend
The character of Gwen is based on Guinevere, the wife of Arthur and Queen of the Britons, in the Arthurian legends. Guinevere appears in the earliest stories of Arthur as his faithful wife. The Welsh Triad names the three queens of Arthur, all three named Gwenhwyfar. It is widely accepted that the famous Gwenhwyfar of legend is the third one mentioned; she is the "daughter of Gogfran the Giant." Geoffrey of Monmouth portrays Guinevere as a noble lady with a Roman heritage, raised by Duke Cador of Cornwall.The recurring theme of her love affairs, whether by consent or abduction, has many variations. Early stories give Arthur as her rescuer, while later the rescuer is Lancelot.
The legends changed over time, and there would be a Love Triangle between Arthur, Lancelot and Guinevere. Lancelot is entirely the creation of Chretien de Troyes and only appears at this date.
After Arthur's death she fled to a nunnery where she remained until her death. The remaining living Knights of the Round Table bore her body to Arthur's tomb where she was buried.