Gemma Jones
Biographical information
Birth date

4 December 1942

Birth place

London, England

Nationality

British

Gender

Female

His/her attendance in Merlin series
Played role
First appearance
Last appearance
Appearances number

2

Serie(s) :
.
Gemma Jones is a British actress who played The Cailleach in the Series 4 episodes: The Darkest Hour: Part One and The Darkest Hour: Part Two of the BBC series Merlin. She is mostly known for portraying Madam Pomfrey in the Harry Potter film series and playing Bridget's mother Pam Jones in the Bridget Jones's Diary movies. Her brother, Nicholas Jones, is also an actor.
Jones became known to television viewers after starring in the BBC serial Kenilworth (1967) as Queen Elizabeth I of England and in BBC2's 1970 dramatisation of The Spoils of Poynton.
She was first recognised outside the UK in 1974, after playing the Empress Frederick in the BBC television drama series Fall of Eagles and Louisa Trotter in another BBC drama, The Duchess of Duke Street. In 1980, she played the role of Portia in the BBC Television Shakespeare production of The Merchant of Venice, opposite Warren Mitchell's Shylock.
On stage, in 1986, she played the great soprano Giuseppina Strepponi in After Aida at the Old Vic Theatre.
Jones played Mrs. Dashwood alongside
Kate Winslet
,
Alan Rickman
and
Emma Thompson
in the
Academy Award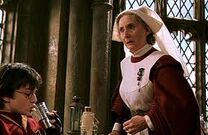 -winning period drama
Sense and Sensibility
(1995). Other notable roles include Lady Queensbury in
Wilde
(1997), Grace Winslow in
The Winslow Boy
(1999), Bridget's mother Pam Jones in
Bridget Jones's Diary
(2001) and
Poppy Pomfrey
in
Harry Potter and the Chamber of Secrets
(2002), reprising her role in
Harry Potter and the Half-Blood Prince
(2009) and
Harry Potter and the Deathly Hallows - Part 2
(2011).
From 2007 to 2008 she played Connie James in the BBC1 drama Spooks. In 2010, she appeared in the Woody Allen film You Will Meet a Tall Dark Stranger.
Community content is available under
CC-BY-SA
unless otherwise noted.