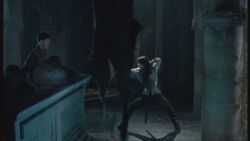 duel between Merlin and Morgana
occurred during the
Great Battle for Camelot
. When
Morgana
, who had turned against
Camelot
, animated a
skeleton
army with a
Rowan Staff
,
Merlin
confronted her. After Merlin failed to stop Morgana, he tried to destroy the staff but she stopped him. The duel started when Merlin and Morgana drew out
swords
and fought. After a fierce battle, Morgana eventually disarmed Merlin and tried to kill him. However, without being seen, Merlin used his magic to make the chamber collapse on Morgana, incapacitating her and ending the duel. With Morgana defeated, Merlin then destroyed the staff, destroying the skeleton army and saving
Camelot
. After the war was over, Morgana took the credit for destroying the staff. She was later honoured in front of the court by
Uther
(
The Tears of Uther Pendragon
).
Victory: Merlin
Community content is available under
CC-BY-SA
unless otherwise noted.