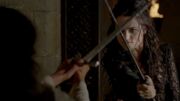 The first and only sword
duel between Guinevere and Morgana
occurred following
Helios
's and
Isolde
's mortal wounding, and the victory of
Arthur
,
Tristan
and the
knights of Camelot
over the
Southrons
.
Guinevere
confronted
Morgana
in
Morgana's Chambers
.
Morgana
had earlier been stripped of her magic with
Merlin
's enchanted
poppet
, and had been wounded in the hip by a
knight of Camelot
, so could only fight one-handed. She was seen walking towards her chambers and was thought to be fleeing, but later returned for an unknown reason and confronted
Gwen
.
Guinevere
chose to find one-handed until her final strike, which
Morgana
used to throw the sword out of her hand and corner her.
Morgana
also fought with one-handed since she was fatally injured. Just as
Morgana
was about to strike
Guinevere
in the throat to finish her off,
Merlin
used a stunning spell on
Morgana
through the doorway, but was not seen by
Guinevere
, and likely
Morgana
. As
Morgana
hit the ground a few meters back, she
vanished into thin air
.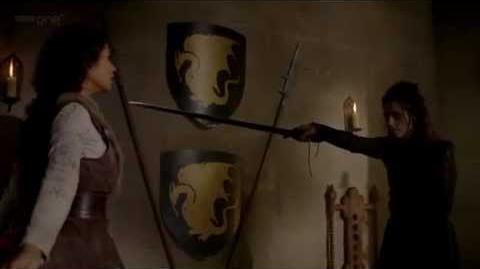 How this happened is unknown, whether it was her own magic, Merlin's, someone else, or another force (The Sword in the Stone).
Victory: Merlin
Transcript
Edit
An exchange of words took place during the duel:
GWEN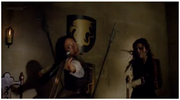 What did I do to make you hate me so much?
MORGANA
It's not what you did, it's what you're destined to do! I'm sorry, Gwen, but I can never let that happen!
--After Morgana's defeat--
MERLIN
Are you alright?
GWEN
Yes.
What happened?
MERLIN
...I don't know.
(The Sword in the Stone (transcript))
Community content is available under
CC-BY-SA
unless otherwise noted.