He was initially rumoured to be dead. In the castle of Fyrien Morgana says "So you ambushed Carleon using those tunnels?" To which Arthur replies, "He never saw us coming."

He is not actually dead as it has been confirmed that he will appear in Series 4. King Carleon will f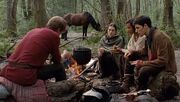 orm an alliance with Morgana and will help her on several occasions, including stealing Merlin's powers and temporarily transfering them to Morgana. He is also a sorcerer.
In season 3 episode 4 Gwaine reveals that his father was a member of Carleon's army. However after Gwaines' father died in battle his mother was turned down by Carleon when she went to him for help.
It is unknown what kingdom he rules.
Appearances
Series 3:
The Castle of Fyrien (mentioned only)
Series 4:
Powerless (first appearance)(Cameo)
Episode 4.13(Cameo)
Community content is available under
CC-BY-SA
unless otherwise noted.