Caerleon
was a
King
of
Caerleon
and the husband of
Queen Annis
.
Biography
At some point in the past, war broke out between Caerleon and Camelot. He was defeated by Uther at the Battle of Denaria, but he retreated to the Castle of Fyrien. Victory would have been denied to Camelot, if Uther hadn't known about a secret labyrinth beneath the castle. Fyrien was in fact greedy, and to avoid Camelot's levies he had dug tunnels from the castle to the sea. That way he could smuggle goods into the kingdom without anyone knowing (The Castle of Fyrien).
At some point, Gorlois befriended Queen Annis and possibly King Caerleon.
Gwaine revealed that his father was a knight in Caerleon's army. However, after Gwaine's father had died in battle, his mother was turned down by Caerleon when she went to him for help (Gwaine).
Morgana asked Arthur if they had ambushed Caerleon using those old tunnels, and the Prince replied: "He never saw us coming" (The Castle of Fyrien).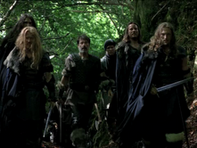 Following the death of Uther, he began raiding Camelot. During one of these raids, he was eventually led into a trap and captured. Following his uncle's advice, Arthur tried to force him to sign a treaty. He refused, which made Arthur reluctantly order him killed. His body was later returned to his kingdom. This event led to the brief war between Camelot and his land which was led by his wife (His Father's Son).
Gallery
Appearances
Series 3

Gwaine (Mentioned only)
The Castle of Fyrien (Mentioned only)

Series 4