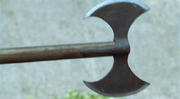 An Axe is a metal blade attached to a wood staff. It can be double edged or simple edged. Its first use is to cut wood ; it's the main instrument of the lumberjack. It can also be used as a weapon or as an ornament.
Domestic use
Edit
Merlin carried a simple edged axe to cut wood, while Will pursued him and said that he didn't need an axe to fell a tree (The Moment of Truth).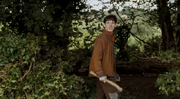 Weapon use
Edit
In The Beginning of the End, the executioner sharpened his simple edged axe to fulfil the punishment of Mordred, in the Main Square.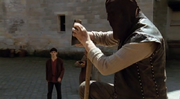 The leader of the bandits, Kanen, rose a double edged axe to give Matthew the final blow, as the brigands raided Ealdor. Thanks to Arthur, he was stopped at the very last moment (The Moment of Truth) .
For the Decennial Tournament, some contestants used an axe. Before the competition, one of the contestants was chopping a training dummy's head off with a double edged axe, and Nollar was throwing a hatchet into the target, while Merlin and Arthur were passing by (The Sorcerer's Shadow).
Pursued by Caerleon's men, Merlin, in knight's disguise, fell to the ground as an axe landed between his legs. He took it to defend himself (His Father's Son).
Ornamental use
Edit
Edwin threw at Merlin an axe which adorned a wall of his chambers, but Merlin overpowered Edwin and sent him back the axe to kill him. (A Remedy to Cure All Ills)
Community content is available under
CC-BY-SA
unless otherwise noted.