Aredian was the most feared and revered Witchfinder in all the known lands.
Biography
Aredian has made a name for himself by hunting out sorcerers, with deadly results. He framed Gaius for sorcery and this almost resulted in Gaius' execution. Whether he was a true sorcerer is unknown but Merlin placed a toad in his mouth and he was accused of being a sorcerer. Aredian tried to bargain his way out by taking Morgana hostage but Merlin burned his knife and he lost his balance and smashed through a window before falling to his death.
Personality
Aredian was ruthless and didn't care whether he caught a real sorcerer or not, caring only about getting paid. He showed indifference to the lives of other people and framed Gaius for sorcery by placing a magical amulet in Gaius' chambers. Aredian wouldn't hesitate to break a deal and claimed that he never bargained with sorcerers. He was also secretive and never revealed how he tracked down sorcerers. This along with the fact that he possessed a magical amulet suggests that he may have been a sorcerer himself. Aredian was condescending,
speaking disrespectfully to Uther and calling him lazy and idle. He was also dismissive towards Arthur and though he claimed he knew Arthur's reputation as a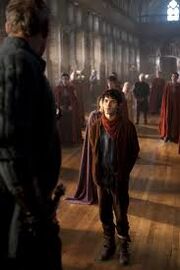 warrior he said he had no need of him.
Community content is available under
CC-BY-SA
unless otherwise noted.